| | |
| --- | --- |
| LASCIARE AD ALTRI LA SCALA DEL SAPERE, E' LASCIARE A LORO IL TUO DESTINO | |
ARCHIVIO MESSAGGI
---
Lu
Ma
Me
Gi
Ve
Sa
Do

---

1
2
3
4
5
6
7
8
9
10
11
12
13
14
15
16
17
18
19
20
21
22
23
24
25
26
27
28
29
30
---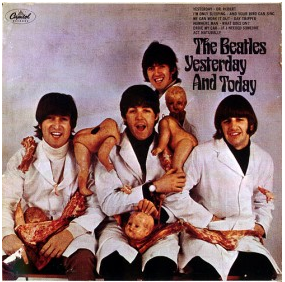 (The original cover of the 1966 "Yesterday and Today" album: Beatles got a good laugh from abortion.)




The Beatles were an Illuminati creation.
Their songs were written for them and
handlers scripted their actions and words.
They demonstrate that popular culture is really mind control.



By David Richards
(henrymakow.com)

In his book, The Committee of 300, former MI6 officer John Coleman reveals the Beatles were a psychological operation run by the Tavistock Institute for Human Relations.

The Beatles were created to advance the formation of a corrupted Brave New World-style slave populace. This agenda kicked in big time during the 60s, with rock groups acting as social agitators.

Free love, drugs and rock music were promoted. To replace Christianity, the Illuminati introduced the New Age Movement: spiritual doctrines that do not require the individual to follow the Moral Law. (See this interview with John Coleman.)

The Beatles were presented as anti-establishment but received endless mainstream media attention. In 1965, they received MBEs (Members of the Most Excellent Order of the British Empire) from the Queen.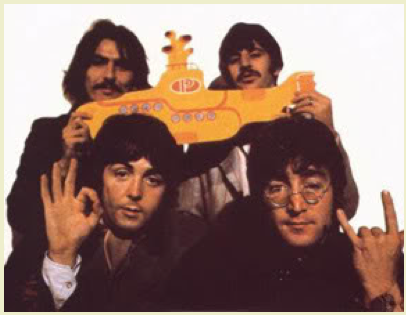 OCCULT REFERENCES

The occult references in the Beatles work prove they were Illuminati puppets.

A promotional photograph for the Yellow Submarine album shows John Lennon flashing the devil horns. Paul McCartney makes a '666'/EYE OF HORUS hand sign.

The front cover of the With The Beatles album shows their faces half in shadow. This is the 'One Eye of Horus' that is epidemic in the music industry today. The black/ white duality is the Masonic doctrine to balance good and evil.

A Beatles compilation was released in 1988 titled 'Past Masters'. Past Master is a Masonic term used to describe the former Worshipful Master of a Masonic Lodge. The album contains exactly 33 songs!

In the film, 'The Magical Mystery Tour,' the Beatles use a magic wand to cast spells on unsuspecting members of the public. Magic wands are made from holly trees (hence Holly-wood) and are the instrument of the occult magician who has his audience (the populace) in a trance. The film features several Masonic handshakes.

The songs also feature occult lyrics. The song 'Lucy in the Sky with Diamonds' refers to Lucifer in the sky with "diamonds" (aka "stars", the Dogstar Sirius representing Lucifer).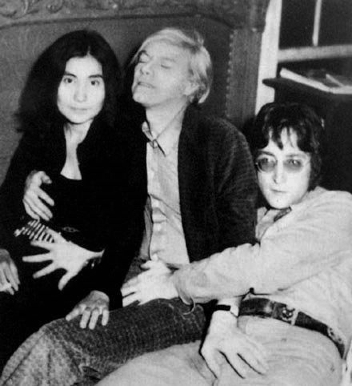 (left. rare photo of John, Yoko & Andy Warhol having a gay time)


The track 'Across The Universe' is about demon possession. John Lennon sings 'gai guru deva' (all hail to the devas). In Theosophy, a deva is a spiritual entity, i.e. demon, which exists behind the scenes manipulating and directing human behavior. Luciferians believe they are possessed by these entities when they rape, torture and kill innocent victims.

Four working class young men could not have written these songs! The Beatles were originally a hack rock 'n' roll cover band playing in the red light district in Hamburg. We are supposed to believe that only a few years later they composed songs with deep occult meanings!

THE SCRIPT

The Beatles behavior was scripted by handlers who knew the agenda behind the group.

The drug agenda was pushed in the infamous interview Paul McCartney gave with the BBC in 1966, when he 'admitted' to taking acid four times.

The interview was intended to cause controversy, which it did, and encourage young people to try LSD. If the BBC were really against drug use, they wouldn't have broadcast the interview to millions of people.

Once we realize that the Beatles were supposed to turn young people against Christianity, their anti-Christian sound bites look scripted.

In 1963 Paul said, "Christianity doesn't fit in with my life." In 1966 John was more forthcoming, telling Newsweek, "Christianity will go, it will vanish and shrink. I needn't argue about that. I'm right and will be proved right."

In the 60s, the big record labels had total control over artists. Do we believe the Beatles could have spouted anti-Christian sentiment in opposition to their label EMI?

Their photo shoots were also clearly designed by Illuminati handlers.

A shocking example is the alternate cover to the 'Yesterday/ Today' album that pictures the Beatles covered in the body parts of dead babies. This was a sick laugh at abortion, the inevitable result of the free love agenda the Beatles were promoting.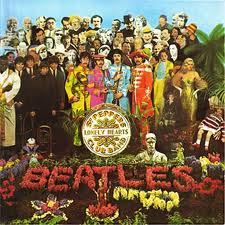 The front cover of the Sgt. Pepper album features the Beatles 'heroes.' They include a whole host of Illuminati stooges: Aldous Huxley, Karl Marx, Aleister Crowley, Mahatma Ghandi, HG Wells and George Bernard Shaw among others. Tellingly, it includes cutouts of the Beatles from their early days. Is this an admission that they also served the Illuminat - See more at: http://www.henrymakow.com/beatles_were_mind_control.html#sthash.y5aWkSjg.dpuf
http://www.henrymakow.com/beatles_were_mind_control.html
---
---
---
"I militari sono stupidi animali muti da utilizzare solo come pedine in politica estera." - Henry Kissinger
'Gli anziani sono mangiatori inutili -. "Henry Kissinger ( 91 anni)
"Per dirla con una terminologia che richiama la brutale età degli antichi imperi, i tre grandi imperativi della geostrategia imperiale sono evitare la collusione e mantenere la dipendenza dalla sicurezza tra i vassalli, per mantenere tributari docili e protetti, e impedire ai barbari di riunirsi -. "Zbigniew Brzezinski, La Grande Scacchiera, (1997)
"Non possiamo essere così fermi sul nostro desiderio di preservare i diritti degli americani comuni." - Bill Clinton, USA Today, 11 marzo 1993
"Queste grandi potenze vecchie e nuove affrontano ancora un'altra nuova realtà - per alcuni aspetti, senza precedenti. Ed è che, mentre la letalità, la letalità, della loro forza militare è più grande che mai, la loro capacità di imporre il controllo sulle masse politicamente risvegliate del mondo è a un minimo storico. Per dirla senza mezzi termini, e sono lusingato che il ministro degli Esteri britannico abbia ripetuto questa cosa, come segue: vale a dire, in altri tempi, era più facile controllare un milione di persone che uccidere fisicamente un milione di persone, oggi, è infinitamente più facile uccidere un milione di persone che controllare un milione di persone. "~ Zbigniew Brzezinski.
http://ilupidieinstein.blogspot.it/2011/05/cfrmilioni-spesi-per-confondere-l.html
---
The award winning actor Philip Seymour Hoffman just passed away from an apparent drug overdose. Given the occult importance to this Illuminati holiday of Imbolg that lands on February 2nd, we can make the inappropriate suggestion that there might be Illuminati foul play involved. From the Occult & Illuminati holiday traditions post:
February 1st – 2nd:- Groundhog's Day aka Imbolg
This festival marks the beginning of spring and is placed at the halfway point between the winter solstice and spring equinox. It was originally based on worshipping the goddess Brighid in Irish mythology, and is still celebrated to this day by Wicca and Pagans. It is considered a night of sacrifice, implying that a ritualistic human sacrifice should be performed as an offering to the gods and goddesses. They celebrate it February 1-2nd, which leads us to the first connection: Groundhog's Day.
The groundhog is symbolic of the Earth Mother (because it lives in the earth). We can connect this to the information on gods and goddesses and we know that Semiramis (the goddess revered as the Earth Mother) has been hibernating (like the groundhog; both are earth creatures with Semiramis being the Earth Goddess). Both of these symbols hibernate over the winter season as the people await their arrival. The groundhog is also symbolic of rebirth and spring, just like the goddess who will make her official appearance on March 21st.
The largest celebration of Groundhog's Day is in Punxsutawney, Pennsylvania. The Punxsutawney groundhog proclamation is a ritual performed by 13 men dressed in black, which sounds very much similar to a coven of 13 witches dressed in black:
Even if the Illuminati and/or occult are a part of this, we will all miss Hoffman's presence in films; my personal favorite was Magnolia for what it's worth (with 25th Hour being a close second).
He was also in the recent Hunger Games films, playing the part of the leader of the rebellion against the Capitol (could that be a subtle message/threat?…) of which I posted about Predictive Programming, Nazis, & Illuminati symbolism:
Hoffman was also in the film Red Dragon which has some occult importance because the Red Dragon is another term for the Devil.
And he was in the film The Master that mocks Scientology; which is a Hollywood-favorite cult-like religion with plenty of conspiracy surrounding it. His character is supposed to be like the founder of Scientology; L. Ron Hubbard. Perhaps the Illuminati types didn't like his portrayal of the character…
I make mention to some occult symbolism behind Scientology in my book A Grand Unified Conspiracy Theory: The Illuminati, Ancient Aliens, and Pop Culture:
Other noted OTO members include Jack Parsons, a famous pioneer in rocket science. He led an American lodge of the OTO for Crowley and would chant Crowley hymns before test rocket launches. Parsons also performed his own sex magick ritual by wife-swapping with none other than Scientology religion founder L. Ron Hubbard (again; lots of ties with Hollywood since a lot of famous and wealthy people follow Scientology).
There are several odd coincidences to point out as well; they are more like loose ends that could be tied up together. Today is the 33rd day of the year; a number important to Freemasonry with the 33rd degree being the highest an initiate can attain, so that supports some numerology theories. The Super Bowl featured a performer by the name of Phillip Phillips (some American Idol winner) singing during the Tailgate party. Check out this video that points out a whole lot of odd coincidences (e.g. Broncos=Horse=Heroin=Apocalypse Horsemen, etc.):
---
CHI PUÒ SCRIVERE SUL BLOG
Solo l'autore può pubblicare messaggi in questo Blog e tutti gli utenti registrati possono pubblicare commenti.