Mondo Jazz diventa il blog del portale Tracce di Jazz . Il Jazz da Armstrong a Zorn. Notizie, recensioni, personaggi, immagini, suoni e video.
IL JAZZ SU RADIOTRE
martedì 28 aprile 2015 20.30
Locandina
IL CARTELLONE
UMBRIA JAZZ WINTER
Giovanni Guidi Rebel Band
Gianluca Petrella trombone Filippo Vignato trombone Mirco Rubegni tromba Francesco Lento tromba Rossano Emili sax baritono Daniele Tittarelli sax contralto Dan Kinzelman sax tenore, arrangiamenti, direzione Giovanni Guidi pianoforte Joe Rehmer contrabbasso Stefano Tamborrino batteria
Registrato il 28 dicembre 2014 a Orvieto, Palazzo del Popolo
BATTITI RADIOTRE: QUESTA NOTTE
Domenica 26 Aprile
Questa notte ci trasferiamo al MUSE - Museo delle Scienze di Trento dove il 10 dicembre scorso si è svolto lo spettacolo multimediale 'Not(t)e al MUSE'. In scena gli avventurosi musicisti, Paolo Fresu e Gianluca Petrella , percorrono le proprie ardite strade musicali attraverso il racconto e le suggestioni scientifiche di Eugenio Coccia, dell'Istituto Nazionale di Fisica Nucleare. Un concerto per tromba, trombone, elettronica e i misteri dell'Universo. Una breve intervista al direttore del MUSE - Michele Lanzinger – introduce questa brillante contaminazione tra saperi che si è svolta nel particolare contesto del Museo.
MONDO JAZZ SU FACEBOOK E SU TWITTER
ARCHIVIO MESSAGGI
---
Lu
Ma
Me
Gi
Ve
Sa
Do

---

1
2
3
4
5
6
7
8
9
10
11
12
13
14
15
16
17
18
19
20
21
22
23
24
25
26
27
28
29
30
---
I PODCAST DELLA RAI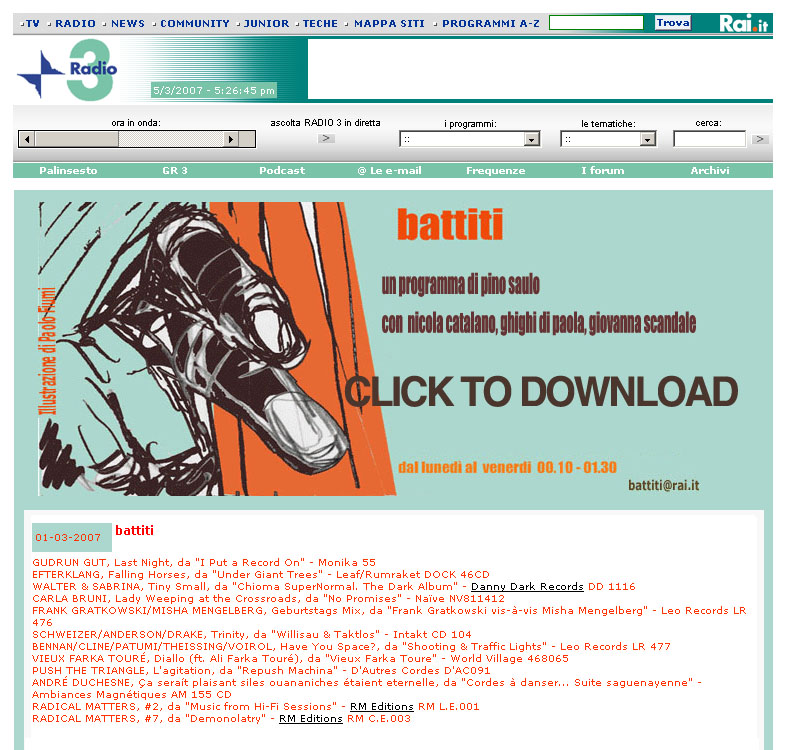 Dall'immenso archivio di Radiotre č possibile scaricare i podcast di alcune trasmissioni particolarmente interessanti per gli appassionati di musica nero-americana. On line le puntate del Dottor Djembč di David Riondino e Stefano Bollani. Da poco č possibile anche scaricare le puntate di Battiti, la trasmissione notturna dedicata al jazz , alle musiche nere e a quelle colte. Il tutto cliccando  
qui
Messaggi del 20/05/2012
Post n°2265 pubblicato il
20 Maggio 2012
da
pierrde
Nove i concerti europei del trio Standards di Keith Jarrett nel mese di luglio. Ecco luoghi e date:
Jul 8, Vienna
Jul 10, Baden-Baden
Jul 13, Zurich
Jul 18, Istanbul
Jul 20, Juan-les-Pins
Jul 23, Genova
Jul 25, Torino
Jul 27, Bari
Jul 29, Roma
Nel frattempo il pianista ha concluso una mini tournèe in solo in Giappone con due date a Tokyo, il 6 e l'11 maggio.
Ecco una bella recensione del primo concerto tratta dal quotidiano The Australian:
ABOUT 35 years ago a young, idiosyncratic, temperamental genius played a series of solo piano concerts across Japan, setting a new standard for endurance. Keith Jarrett was already known for playing with Miles Davis, but this was something else. At the same time as his jazz career was taking shape, Jarrett had been building a reputation for long-form solo concerts of entirely improvised music. The previous year saw the release of the Koln Concert, a masterpiece that won fans around the world. Next came the Sun Bear concerts, a full record of his Japan tour. Critics mocked the audacity — it was a 10-LP box set — but the music spoke for itself, and endured.
This week Jarrett returned to Japan for two solo concerts, continuing his relationship with an audience he knows well. Japan has become familiar territory; he's played there dozens of times since Sun Bear days. Australian promoters watch with envy, unable to convince the notoriously fickle musician to travel here. But long-haul flights aside, can Australia compete? On Sunday night, at the Bunkamura Orchard Hall in Shibuya, Tokyo, it was possible to identify clues to Jarrett's affection for the country. It's a few minutes before 7pm, and a bell rings out across the auditorium. The gesture is mostly redundant, as the vast majority of the concert hall is already seated.
Not only that: they sit in total silence. The house lights are on, Jarrett is nowhere to be seen and a heady expectation hangs in the air. The lights dim and the star steps on to the stage, hands to his temples as though lost in thought. Forty minutes of improvisation rush past. In Jarrett's early solo concerts, he played pieces that lasted up to 40 minutes each. In recent years these shortened — to the point that on his latest album, Rio, no piece exceeds nine minutes. Jarrett has found a way to refine ideas into rich, emotionally contained morsels that last only as long as they must. All are delivered with flawless virtuosity and the usual Jarrett eccentricities (standing, grunting, singing, hooting, stamping).
And so it is on Sunday. The first set is broken up into short pieces. It's thrilling stuff, but he seems to be holding something back. The hall feels tense. At the end of each piece, a man in the crowd moans before applause rushes across the hall. Jarrett bows deeply, and the silence falls again. The second half follows a similar pattern, but the mood feels different. The crowd has been urged to wait a moment before applauding (an announcement surely aimed at the moaning man), but it's more than that. They wait again in silence for Jarrett to appear, and in the applause that greets him to the stage, both performer and audience seem more at ease. Jarrett, alone and exposed at the piano, is at the top of his game.
He conjures fully formed compositions with deep wells of beauty: impressionistic melodies, double-handed fireworks, gentle grooves, folky narratives, rapid abstractions. He even plays the strings of the piano, something he rarely does. The crowd gives as much back. And it's here that one of Jarrett's secrets can be found. Apart from his debut for ECM and one restorative album of standards, his solo albums have all been recorded in front of a live audience. (This one, like all others, is recorded too, though a release is not guaranteed.) As his head and shoulders dip in a bow, Jarrett seems both drained and exalted. At one point, when the applause falls to silence, he waves his arms. "Energy," he says, as though that needs no explanation. Several standing ovations and three encores cap an enchanting experience. Jarrett needs an audience, but not for egotistical reasons. He's the star, but in a concert of improvisation, the audience has a role as well. They are more than witnesses. They are invited to join in the mystery of creation, participants in a creative journey that Jarrett leads better than anyone alive.
Fonte:
http://www.keithjarrett.it/lang/it/jarrett-at-top-of-his-game-in-japan-the-australian/#more-1829
---
Post n°2264 pubblicato il
20 Maggio 2012
da
pierrde
"La berlusconorevole Fiorella Ceccacci, già attrice nel film «Corti circuiti erotici» e perciò autorevole membro della commissione Cultura...." (Massimo Gramellini, Una Tassa pelosa)
Continua a leggere su
http://www.lastampa.it/_web/cmstp/tmplRubriche/editoriali/grubrica.asp?ID_blog=41&ID_articolo=1181
Notizia che entra di diritto nella mia rubrica Orrori Da Gustare e si insedia senza discussioni al primo posto assoluto. Il Presidente della Repubblica Italiana Giorgio Napolitano ha conferito al pianista e compositore Giovanni Allevi l'onorificenza della nomina di Cavaliere al Merito della Repubblica.
Tapiro d'oro virtuale al Presidente per l'ottima scelta in perfetta sintonia con il concetto di cultura espresso dalla nostra classe politica.
Milano, 19 mag. (TMNews) - Un riconoscimento particolare, diverso da tutti quelli che nella sua carriera da musicista aveva fino a oggi collezionato. Giovanni Allevi è stato insignito della nomina di Cavaliere al Merito della Repubblica Italiana, conferita dal presidente Giorgio Napolitano. Il pianista e compositore marchigiano ha ricevuto l'importante onorificenza riservata a chi in Italia si è distinto "per benemerenze acquisite verso il Paese in ambito culturale, economico, sociale, umanitario".
Dopo le oltre 700mila copie vendute in tutto il mondo e i cinque dischi di platino vinti, Allevi è reduce dal successo della sua prima pubblicazione in Francia, la collection "Secret Love". Si autodefinisce "compositore di musica classica contemporanea", suscitando non poche critiche da colleghi ed esperti del settore.
fonte:
http://www.tmnews.it/web/sezioni/news/PN_20120519_00185.shtml#.T7jBfyLvbNE.facebook
---
PARLIAMO DI JAZZ (MA NON SOLO): I BLOG ITALIANI
http://jazzfromitaly.blogspot.it/
http://jazzdanielsblog.blogspot.com/
http://www.magazzinojazz.it/index.php?
http://mipiaceiljazz.blogspot.com/
http://freefalljazz.altervista.org/blog/
http://gerovijazz-jazzfan37.blogspot.it/
http://giuliocancelliere.wordpress.com/
http://scriveredijazz.blogspot.it/
http://saltpeanutsjazz.wordpress.com/
Questa piccola finestra sui blog italiani a tema jazzistico nasce con l'intento di accomunare, e se possibile, contribuire ad una migliore conoscenza e diffusione della nostra musica.
JAZZ E FOTOGRAFIA : HERMAN LEONARD
Una sequenza delle piů celebri fotografie di Herman accompagnate dalla voce inimitabile di Ella Fitzgerald.
ARTE E MUSICA
500 Years of Female Portraits in Western Art

Music: Bach's Sarabande from Suite for Solo Cello No. 1 in G Major, BWV 1007 performed by Yo-Yo Ma


collected some paintings by Gogh ...
Enrico Pieranunzi's melancholy music ( Canto Nascosto )
Henri Matisse paintings with Miles Davis composition "Generique"