Mondo Jazz diventa il blog del portale Tracce di Jazz . Il Jazz da Armstrong a Zorn. Notizie, recensioni, personaggi, immagini, suoni e video.
IL JAZZ SU RADIOTRE
martedì 21 aprile 2015 20.30
Locandina
IL CARTELLONE
UMBRIA JAZZ WINTER
Fabrizio Bosso Quartet
Fabrizio Bosso tromba Nicola Angelucci batteria Luca Alemanno contrabbasso Julian Oliver Mazzariello pianoforte
Registrato il 30 dicembre 2014 a Orvieto, Palazzo del Popolo
------------------------------------------------------------------
TORINO JAZZ FESTIVAL
Mauro Ottolini Sousaphonix musicano il film "Le sette probabilità" di Buster Keaton
Mauro Ottolini trombone, arrangiamenti, composizioni, direzione; Vanessa Tagliabue Yorke voce Vincenzo Vasi voce, theremin, strumenti giocattolo, effetti speciali Dan Kinzelman sax tenore, clarinetto basso Guido Bombardieri clarinetto, sax contralto Paolo Degiuli cornetta Paolo Botti viola, dobro Enrico Terragnoli banjo, chitarra, podofono Roberto Denittis armonio a pedali, pianoforte Danilo Gallo contrabbasso Zeno De Rossi batteria
Registrato il 27 aprile 2014 all'Auditorium Rai Arturo Toscanini, Torino
BATTITI RADIOTRE: QUESTA NOTTE
Sabato 18 Aprile
La musica dal vivo è sempre stata una sfida importante per i musicisti. Fondamentale è il rapporto col pubblico: stabilire un'intimità e una complicità particolari con chi ascolta rende spesso i musicisti più liberi di esprimersi. È così che si sentivano la maggior parte degli artisti del Village Vanguard di New York, uno dei nightclub più "hip" della città, come direbbe Cannonball Adderley. Lì Coltrane nel '61 ha deciso di registrare il suo primo disco dal vivo, la stessa esperienza l'aveva già fatta Sonny Rollins nel '57 e poi ancora Bill Evans, Rahsaan Roland Kirk, Earl Hines, Betty Carter, tutti accolti dalla fresca curiosità del fondatore Max Gordon. La tradizione continua ancora oggi con musicisti come Brad Mehldau e Marc Ribot. Questa notte ci immergeremo in quella atmosfera…
MONDO JAZZ SU FACEBOOK E SU TWITTER
I PODCAST DELLA RAI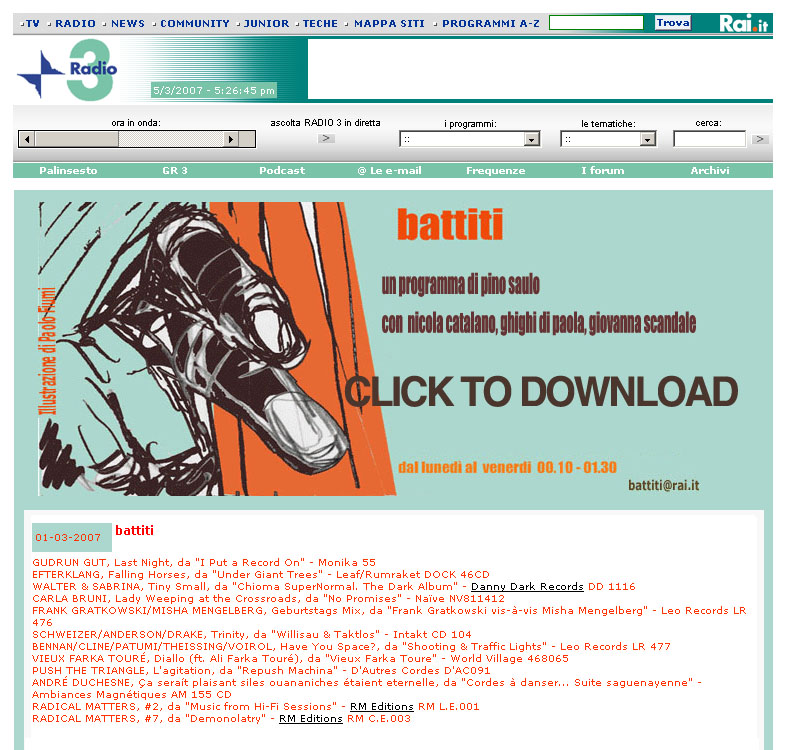 Dall'immenso archivio di Radiotre è possibile scaricare i podcast di alcune trasmissioni particolarmente interessanti per gli appassionati di musica nero-americana. On line le puntate del Dottor Djembè di David Riondino e Stefano Bollani. Da poco è possibile anche scaricare le puntate di Battiti, la trasmissione notturna dedicata al jazz , alle musiche nere e a quelle colte. Il tutto cliccando  
qui
Messaggi del 08/05/2012
Post n°2253 pubblicato il
08 Maggio 2012
da
pierrde
martedì 8 maggio 2012 20.30
Locandina
IL CARTELLONE
CAPRARICAINJAZZ: Vito Di Modugno Band
Massimo Manzi, batteria
Pietro Condorelli, chitarra
Michele Carrabba, sax tenore, sax soprano
Jerry Bergonzi, sax tenore
Fabio Morgera, tromba
Vito Di Modugno, organo Hammond
registrato a Caprarica di Lecce, Masseria Stali, il 31 luglio 2011
ORSARA MUSICA JAZZ FESTIVAL: Antonio Ciacca "Orsara Suite"
Jerry Bergonzi, sax tenore
Jim Rotondi, tromba
Lucio Ferrara, chitarra
Mark Sherman, vibrafono
John Webber, contrabbasso
Joe Farnsworth, battera
Antonio Ciacca, pianoforte
registrato a Orsara di Puglia il 6 agosto 2011
---
Post n°2252 pubblicato il
08 Maggio 2012
da
pierrde
Un'altra occhiata in casa Zorn, favorita da questo bellissimo e lungo video del 1999 registrato a Varsavia e che vede all'opera tre progetti Masada: lo String Trio, Bar Kokhba e il Masada Quartet.
In uscita prossimamente altri due album che sul sito della Tzadik cosi' vengono descritti:
John Zorn: Templars-In Sacred Blood [#7398]
Over a year in the making, the 6th CD in the Moonchild legacy is a testament-tribute to the Poor Fellow-Soldiers of Christ and the Temple of Solomon, the legendary crusading Warrior-Monks whose 200-year rise to power ended abruptly in 1307 under accusations of heresy. With lyrics opening a new world of possibilities, the music exudes a powerful emotional intensity. Patton's versatility is at its peak, and he sings everything from Gregorian Chants and atonal melodies to hardcore screams and passionate whispers. The evocative organ of John Medeski adds a deeply religious tone to the drama, and the Dunn-Baron rhythm section is at its raging best!
John Zorn: The Hermetic Organ [#7399]
This is the first volume documenting Zorn's breathtaking solo organ improvisations. Although organ was Zorn's first instrument (he often credits Lon Chaney in the silent classic Phantom of the Opera as a primal influence), in 2011 Zorn surprised even his hardcore fans by initiating a new series of solo organ concerts in churches around the world. Premiering at the historic Christ Church in Philadelphia, the word on these concerts spread like wildfire and further events were set up in Belgium, France and of course in New York. Often late night affairs free to the public, the music is breathtakingly beautiful, and distinguished by a spiritual mood that only a huge pipe organ can create. A perfect outlet for Zorn's dramatic sense of color and contrast, we hear the composer's mind at work in all its bizarre permutations—huge blocks of sound, chords, clusters, counterpoint, drones, ostinatos, lyrical melodies and more—often all at the same time! This CD presents the climax event of Zorn's acclaimed Composer Portrait in December 2012 at Columbia University's Miller Theatre—a thrilling solo organ concert unlike anything you've ever heard.
Infine un'altra primizia: nel 2013 sono previste ben 5 Masada Marathons. Ecco dove e quando:
31 janvier et 1er février: Moscou
2 et 3 février : Pologne
27 juillet : San Sebastian, Espagne
28 juillet : Marciac, France
14 et 15 septembre: New York
---
PARLIAMO DI JAZZ (MA NON SOLO): I BLOG ITALIANI
http://jazzfromitaly.blogspot.it/
http://jazzdanielsblog.blogspot.com/
http://www.magazzinojazz.it/index.php?
http://mipiaceiljazz.blogspot.com/
http://freefalljazz.altervista.org/blog/
http://gerovijazz-jazzfan37.blogspot.it/
http://giuliocancelliere.wordpress.com/
http://scriveredijazz.blogspot.it/
http://saltpeanutsjazz.wordpress.com/
Questa piccola finestra sui blog italiani a tema jazzistico nasce con l'intento di accomunare, e se possibile, contribuire ad una migliore conoscenza e diffusione della nostra musica.
JAZZ E FOTOGRAFIA : HERMAN LEONARD
Una sequenza delle più celebri fotografie di Herman accompagnate dalla voce inimitabile di Ella Fitzgerald.
ARTE E MUSICA
500 Years of Female Portraits in Western Art

Music: Bach's Sarabande from Suite for Solo Cello No. 1 in G Major, BWV 1007 performed by Yo-Yo Ma


collected some paintings by Gogh ...
Enrico Pieranunzi's melancholy music ( Canto Nascosto )
Henri Matisse paintings with Miles Davis composition "Generique"