Il Jazz da Armstrong a Zorn. Notizie, recensioni, personaggi, immagini, suoni e video.
IL JAZZ SU RADIOTRE
lunedì 18 giugno 2018 alle 20.30
------------------------------------------------------------------
UNA STRISCIA DI TERRA FECONDA
ONJ (Orchestre National de Jazz) diretta da Olivier Benoit
"Paris-Roma"
chitarra, Olivier Benoit
clarinetti, Jean Dousteyssier
sax tenore, Alexandra Grimal
sax alto, Hugues Mayot
trombone, Fidel Fourneyron
tromba, Fabrice Martinez
violino, Theo Ceccaldi
voce, Maria Laura Baccarini
pianoforte, Sophie Agnel
basso elettrico, Sylvain Daniel
piano Fender Rhodes, Paul Brousseau
batteria, Eric Echampard
Registrato il 19 settembre 2017 all'Auditorium Parco della Musica, Roma
ONJ Orchestre National de Jazz
MONDO JAZZ SU FACEBOOK E SU TWITTER
I PODCAST DELLA RAI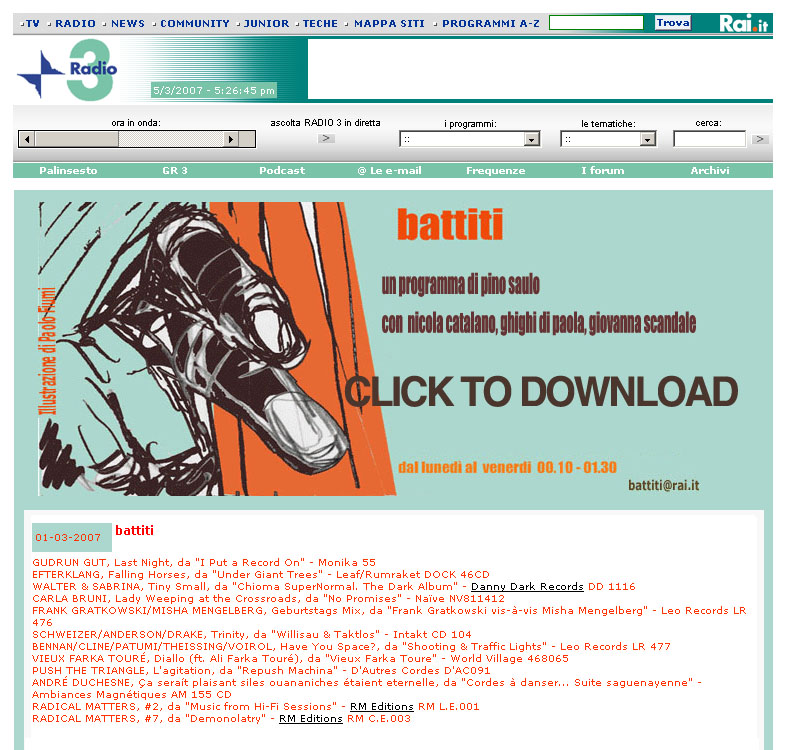 Dall'immenso archivio di Radiotre è possibile scaricare i podcast di alcune trasmissioni particolarmente interessanti per gli appassionati di musica nero-americana. On line le puntate del Dottor Djembè di David Riondino e Stefano Bollani. Da poco è possibile anche scaricare le puntate di Battiti, la trasmissione notturna dedicata al jazz , alle musiche nere e a quelle colte. Il tutto cliccando  
qui
Post n°3971 pubblicato il
21 Aprile 2015
da
pierrde
Bernard Stollman, the founder of the ESP Disk' record label, died yesterday, April 19. According to an announcement on the label's Facebook page, Stollman had been battling colon cancer that had spread to his spine; he had also recently suffered from pneumonia and low blood oxygen. Stollman was 85. The place of death was not reported.
ESP Disk' was founded in 1964 and from the start its policy—quite rare at the time—was to give all artists complete freedom to release their music as they saw fit. ESP Disk' released copious amounts of avant-garde jazz as well as folk music, underground rock and other genres of music not considered commercial. Among the artists who recorded for ESP Disk' were the Fugs, Pearls Before Swine, the Godz and the Holy Modal Rounders. In the jazz realm, the roster included recordings by Albert Ayler, Ornette Coleman, Pharoah Sanders, Bud Powell, Sun Ra, Paul Bley, Henry Grimes, Gato Barbieri, Sonny Simmons, Steve Lacy and many more.
In 2003, pianist Ellis Marsalis released a solo album on the label. Poet Allen Ginsberg, writer William S. Burroughs, LSD promoter Timothy Leary, pre-punk rocker Jayne County and mass murderer Charles Manson also feature within the label's sizable discography, as do many artists who were, and remain, obscure.
Continua a leggere qui:
http://jazztimes.com/articles/159542-bernard-stollman-esp-disk-founder-dies-at-85
AUTORI DEL BLOG
Andrea Baroni
Fabio Chiarini
Roberto Dell'Ava
Franco Riccardi
Ernesto Scurati