Il Jazz da Armstrong a Zorn. Notizie, recensioni, personaggi, immagini, suoni e video.
IL JAZZ SU RADIOTRE
martedì 9 ottobre 2018 alle 20.30
------------------------------------------------------------------
JAZZ & WINE OF PEACE
Pipe Dream
violoncello, voce, Hank Roberts
pianoforte, Fender Rhodes, Giorgio Pacorig
trombone, Filippo Vignato
vibrafono, Pasquale Mirra
batteria, Zeno De Rossi
Registrato il 26 ottobre 2017 a Villa Attems, Lucinico (GO)
MONDO JAZZ SU FACEBOOK E SU TWITTER
ARCHIVIO MESSAGGI
---
Lu
Ma
Me
Gi
Ve
Sa
Do

---

1
2
3
4
5
6
7
8
9
10
11
12
13
14
15
16
17
18
19
20
21
22
23
24
25
26
27
28
---
I PODCAST DELLA RAI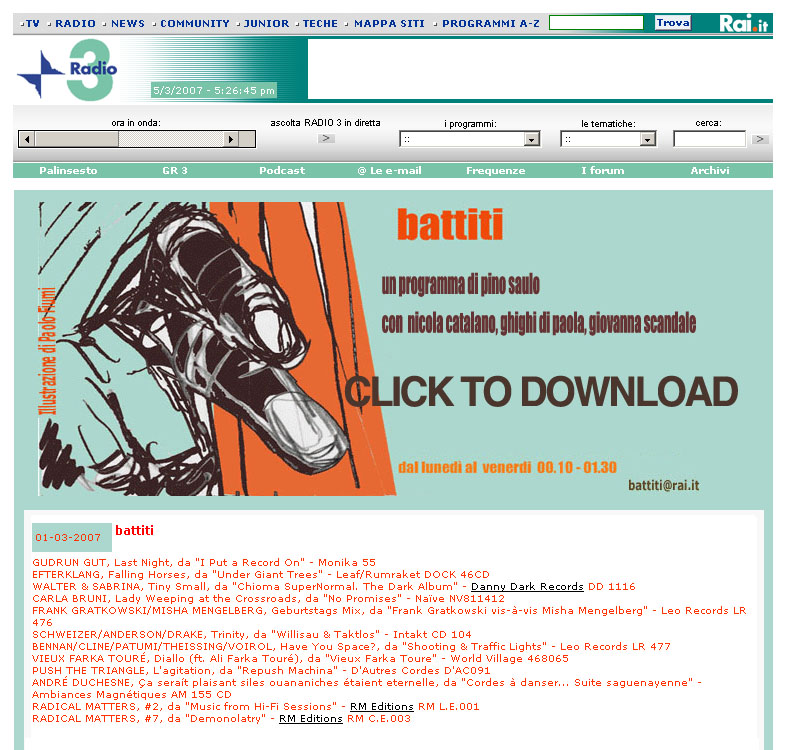 Dall'immenso archivio di Radiotre è possibile scaricare i podcast di alcune trasmissioni particolarmente interessanti per gli appassionati di musica nero-americana. On line le puntate del Dottor Djembè di David Riondino e Stefano Bollani. Da poco è possibile anche scaricare le puntate di Battiti, la trasmissione notturna dedicata al jazz , alle musiche nere e a quelle colte. Il tutto cliccando  
qui
Post n°4024 pubblicato il
28 Giugno 2018
da
pierrde
Il pianista Vijay Iyer,la cantante Cécile McLorin Salvant, la flautista Nicole Mitchell, il trombettista Amir ElSaffar, la direttrice d'orchestra Maria Schneider e l'artista hip-hop Kendrick Lamar sono tra gli artisti di talento che hanno vinto in più categorie nel 66 ° Annual DownBeat International Critics Poll.

Iyer ha vinto nella categoria jazzista dell'anno (un'impresa che ha realizzato anche nel 2012 e nel 2015), e il suo sestetto, che ha pubblicato l'album Far From Over (ECM), ha vinto nella categoria Jazz Group. Prodotto da Manfred Eicher, l'album presenta Iyer (piano, Fender Rhodes), Graham Haynes (cornetta, flicorno, elettronica), Steve Lehman (sassofono contralto), Mark Shim (sax tenore), Stephan Crump (contrabbasso) e Tyshawn Sorey ( batteria).

Salvant trionfa nella categoria Vocalist femminile, e il suo ambizioso doppio album, Dreams And Daggers (Mack Avenue), è stato votato come Jazz Album of the Year.
Mitchell ha vinto nella categoria Flauto e la sua band Black Earth Ensemble, che ha avuto una formazione fluida e rotante per decenni, ha vinto la categoria Rising Star-Jazz Group. Uno dei collaboratori di lunga data di Mitchell, la violoncellista Tomeka Reid, ha vinto la categoria Rising Star-Miscellaneous Instrument.

Il compositore, trombettista, suonatore di santur e cantante Amir ElSaffar ha vinto in due categorie: Rising Star - Tromba e Rising Star-Arranger.
Maria Schneider ha vinto la categoria Arranger e la Schneider Orchestra ha vinto la categoria Big Band.

L'artista hip-hop Kendrick Lamar, vincitore di un Grammy, il cui album Damn . (Interscope / Top Dawg Entertainment) ha venduto un milione di copie e gli è valso un premio Pulitzer, ha vinto la categoria Beyond Artist e Beyond Album.

C'e' stato un pari merito nella categoria Rising Star-Jazz Artist, quindi la pianista Kris Davis (nella foto) e il chitarrista Julian Lage condivideranno l'onore come co-vincitori.
Il sondaggio ha anche portato a due nuovi ingressi nella Downbeat Hall of Fame. Ad unirsi al club d'élite ci sono il compositore e sassofonista di 89 anni, Benny Golson, e la pianista e personaggio radiofonico Marian McPartland (1918-2013), che sono stati votati dal Downbeat Veterans Committee.

Tra le composizioni di Golson che sono diventate standard ci sono "Whisper Not", "Killer Joe", "I Remember Clifford" e "Along Came Betty".
Per decenni, Marian McPartland è stata una voce familiare ascoltata nel programma radiofonico NPR Marian McPartlad's Piano Jazz , che presentava interviste e collaborazioni con musicisti ospiti.

"DownBeat è orgogliosa di dare il benvenuto a Benny Golson e alla defunta Marian McPartland nella Hall of Fame", ha dichiarato Bobby Reed, editor di DownBeat. "Golson e McPartland sono entrambi titani i cui contributi al jazz sono incommensurabili. Questi due artisti sono legati dal fatto che entrambi sono apparsi nell'iconica fotografia di Art Kane del 1958 A Great Day In Harlem . Altre due cose che hanno in comune sono una lunga carriera che ha diffuso la popolarità del jazz in tutto il mondo e un corpus di opere che sarà venerato dai fan del jazz per decenni ".

Tra gli altri vincitori del 66 ° sondaggio annuale di DownBeat International Critics figurano Ambrose Akinmusire (Tromba), Mary Halvorson (chitarra), Steve Swallow (basso elettrico), Kurt Elling (cantante maschile), Jacob Garchik (Rising Star-trombone ), Caroline Davis (Rising Star-Alto Saxophone), Ingrid Laubrock (Rising Star-Tenor Saxophone) e Johnathan Blake (Rising Star-Drums).
Di seguito l'elenco completo dei vincitori.
Jazz Artist: Vijay Iyer
Jazz Album: Cécile McLorin Salvant, Dreams And Daggers (Mack Avenue)
Hall of Fame: Benny Golson and Marian McPartland
Historical Album: Miles Davis & John Coltrane, The Final Tour: The Bootleg Series, Vol. 6 (Columbia/Legacy)
Jazz Group: Vijay Iyer Sextet
Big Band: Maria Schneider Orchestra
Trumpet: Ambrose Akinmusire
Trombone: Wycliffe Gordon
Soprano Saxophone: Jane Ira Bloom
Alto Saxophone: Rudresh Mahanthappa
Tenor Saxophone: Charles Lloyd
Baritone Saxophone: Gary Smulyan
Clarinet: Anat Cohen
Piano: Geri Allen (1957-2017)
Keyboard: Robert Glasper
Organ: Dr. Lonnie Smith
Guitar: Mary Halvorson
Bass: Christian McBride
Electric Bass: Steve Swallow
Violin: Regina Carter
Drums: Jack DeJohnette
Percussion: Hamid Drake
Vibraphone: Stefon Harris
Miscellaneous Instrument: Akua Dixon (cello)
Female Vocalist: Cécile McLorin Salvant
Male Vocalist: Kurt Elling
Composer: Muhal Richard Abrams (1930-2017)
Arranger: Maria Schneider
Record Label: ECM
Producer: Manfred Eicher
Blues Artist or Group: Bettye LaVette
Blues Album: Taj Mahal & Keb' Mo', TajMo (Concord)
Beyond Artist or Group: Kendrick Lamar
Beyond Album: Kendrick Lamar, Damn. (Interscope/Top Dawg Entertainment)
Rising Star Categories
Rising Star-Jazz Artist (TIE): Kris Davis and Julian Lage
Rising Star-Jazz Group: Nicole Mitchell's Black Earth Ensemble
Rising Star-Big Band: John Beasley's MONK'estra
Rising Star-Trumpet: Amir ElSaffar
Rising Star-Trombone: Jacob Garchik
Rising Star-Soprano Saxophone: Jimmy Greene
Rising Star-Alto Saxophone: Caroline Davis
Rising Star-Tenor Saxophone: Ingrid Laubrock
Rising Star-Baritone Saxophone: Alex Harding
Rising Star-Clarinet: Matana Roberts
Rising Star-Flute: Rhonda Larson
Rising Star-Piano: Orrin Evans
Rising Star-Keyboard: Elio Villafranca
Rising Star-Organ: Roberta Piket
Rising Star-Guitar: Jakob Bro
Rising Star-Bass: Thomas Morgan
Rising Star-Electric Bass: Mimi Jones
Rising Star-Violin: Scott Tixier
Rising Star-Drums: Johnathan Blake
Rising Star-Percussion: Satoshi Takeishi
Rising Star-Vibraphone: Behn Gillece
Rising Star-Miscellaneous Instrument: Tomeka Reid (cello)
Rising Star-Female Vocalist: Jazzmeia Horn
Rising Star-Male Vocalist: Jamison Ross
Rising Star-Composer: Tyshawn Sorey
Rising Star-Arranger: Amir ElSaffar
Rising Star-Producer: Flying Lotus
AUTORI DEL BLOG
Andrea Baroni
Fabio Chiarini
Roberto Dell'Ava
Franco Riccardi
Ernesto Scurati