Mondo Jazz diventa il blog del portale Tracce di Jazz . Il Jazz da Armstrong a Zorn. Notizie, recensioni, personaggi, immagini, suoni e video.
IL JAZZ SU RADIOTRE
martedì 28 aprile 2015 20.30
Locandina
IL CARTELLONE
UMBRIA JAZZ WINTER
Giovanni Guidi Rebel Band
Gianluca Petrella trombone Filippo Vignato trombone Mirco Rubegni tromba Francesco Lento tromba Rossano Emili sax baritono Daniele Tittarelli sax contralto Dan Kinzelman sax tenore, arrangiamenti, direzione Giovanni Guidi pianoforte Joe Rehmer contrabbasso Stefano Tamborrino batteria
Registrato il 28 dicembre 2014 a Orvieto, Palazzo del Popolo
BATTITI RADIOTRE: QUESTA NOTTE
Domenica 26 Aprile
Questa notte ci trasferiamo al MUSE - Museo delle Scienze di Trento dove il 10 dicembre scorso si è svolto lo spettacolo multimediale 'Not(t)e al MUSE'. In scena gli avventurosi musicisti, Paolo Fresu e Gianluca Petrella , percorrono le proprie ardite strade musicali attraverso il racconto e le suggestioni scientifiche di Eugenio Coccia, dell'Istituto Nazionale di Fisica Nucleare. Un concerto per tromba, trombone, elettronica e i misteri dell'Universo. Una breve intervista al direttore del MUSE - Michele Lanzinger – introduce questa brillante contaminazione tra saperi che si è svolta nel particolare contesto del Museo.
MONDO JAZZ SU FACEBOOK E SU TWITTER
ARCHIVIO MESSAGGI
---
Lu
Ma
Me
Gi
Ve
Sa
Do

---

1
2
3
4
5
6
7
8
9
10
11
12
13
14
15
16
17
18
19
20
21
22
23
24
25
26
27
28
29
30
31
---
I PODCAST DELLA RAI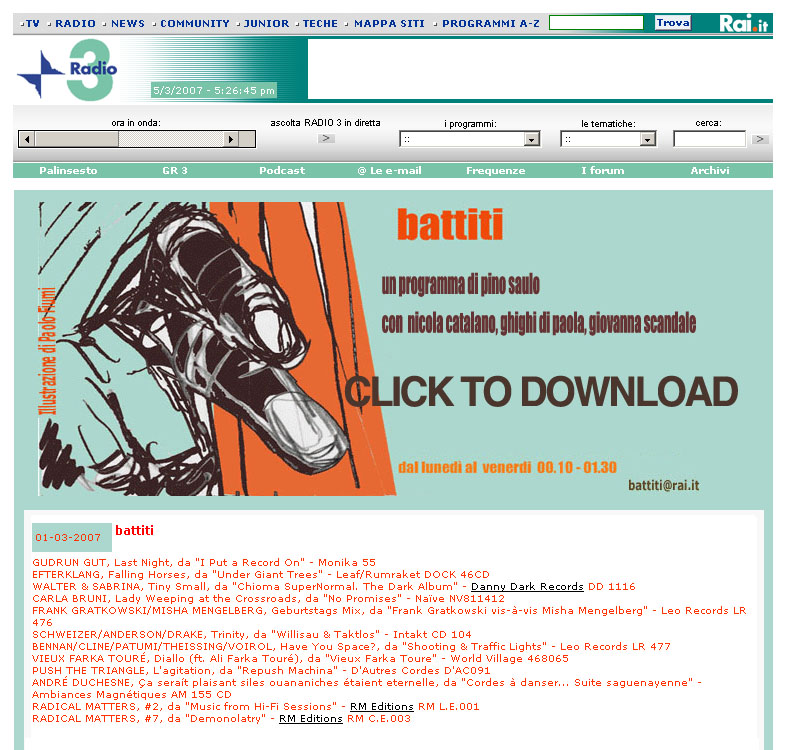 Dall'immenso archivio di Radiotre č possibile scaricare i podcast di alcune trasmissioni particolarmente interessanti per gli appassionati di musica nero-americana. On line le puntate del Dottor Djembč di David Riondino e Stefano Bollani. Da poco č possibile anche scaricare le puntate di Battiti, la trasmissione notturna dedicata al jazz , alle musiche nere e a quelle colte. Il tutto cliccando  
qui
Messaggi del 09/07/2012
Post n°2319 pubblicato il
09 Luglio 2012
da
pierrde
Pianist Vijay Iyer won in an unprecedented five categories of the 60th Annual DownBeat International Critics Poll, taking honors for Jazz Artist of the Year and top Jazz Album, for his trio's 2012 disc, Accelerando (ACT).
Iyer also was voted the top Pianist, his trio was named the top Jazz Group, and he took honors for Rising Star Composer.
"For our 2012 poll, 186 critics from around the globe voted, making this the largest voting turnout in the poll's illustrious history," Alkyer said. "The DownBeat Critics Poll is the most comprehensive poll in the jazz world. Its results show more than 1,000 artists or acts receiving votes in 62 categories, shining a spotlight on every style and every instrument in jazz.
" The Critics Poll is divided into categories for established acts and for Rising Stars. In addition to Jazz categories, the poll also includes Blues and Beyond categories. The complete results will be published in the August issue of DownBeat, arriving on newsstands on July 17.
The genre-blending pianist Robert Glasper is also a five-category winner this year. The Robert Glasper Experiment was voted the Beyond Group of the Year, and its disc Black Radio (Blue Note) was named the top Beyond Album. Glasper was voted the Rising Star Jazz Artist and Rising Star Pianist, while his trio was named the Rising Star Jazz Group.
The critics elected influential drummer and composer Paul Motian into the DownBeat Hall of Fame. Motian died on Nov. 22, 2011, at age 80. The DownBeat Veterans Committee elected saxophonists Gene Ammons (1925–'74) and Sonny Stitt (1924–'82) into the Hall of Fame, bringing the total number of inductees to 131.
The top Historical Album of the Year is the Miles Davis Quintet's Live In Europe 1967: The Bootleg Series, Vol. 1 (Columbia/Legacy).
Among the established artists in the Critics Poll, the winners include Sonny Rollins (Tenor Saxophone), Nicole Mitchell (Flute), Christian McBride (Bass and Electric Bass), Jack DeJohnette (Drums), Kurt Elling (Male Vocalist) and Cassandra Wilson (Female Vocalist). Critics selected Dr. John as the top Blues Artist, and Otis Taylor took the honors for top Blues Album, for Otis Taylor's Contraband (Telarc). Among the Rising Star winners are Josh Roseman (Rising Star Trombone), Julian Lage (Rising Star Guitar), Linda Oh (Rising Star Bass) and John Hollenbeck (Rising Star Arranger).
For a list of the complete results, click here.
Fonte : DownBeat.com
Spero di non leggere commenti simili a quello pubblicato solo qualche settimana fa e relativo ai risultati della Jazz Journalist Association.
So benissimo, e sono sempre stato il primo a scriverlo, che un referendum è solo l'opinione di un ristretto numero di critici (186 in questo caso), e che si tratta di una indicazione molto soggettiva e limitata. Ma se si bollano come "idioti" i giornalisti che si occupano di jazz a chi dovremmo chiedere indicazioni sullo stato di salute della nostra musica. Forse a Raffaella Fico ?
---
Post n°2318 pubblicato il
09 Luglio 2012
da
pierrde
E' in pieno svolgimento il più importante festival italiano, Umbria Jazz, di cui spesso ho avuto modo di parlare sul mio blog.
Il più delle volte per criticarne programmi e scelte, ma sempre comunque nella consapevolezza dell'importanza che la rassegna perugina riveste in ambito italiano ed europeo.
Dopo un intervallo piuttosto lungo, cinque anni, quest'anno ho deciso di tornare a Perugia anche se solo per pochi giorni. Ho cercato ovviamente di fare in modo di poter vedere ed ascoltare il meglio in uno spazio temporale limitato. Pertanto riuscirò ad essere presente ai concerti di Metheny, Rollins, Gardot, Shorter.
Ovviamente perderò altre proposte interessanti (Dave Douglas e Joe Lovano in primis) ma è inevitabile considerando la lunghezza del festival ed i costi relativi.
Intanto su You Tube compaiono i primi video che riassumono le giornate fin qui trascorse. Propongo il secondo giorno, dove è possibile vedere tra gli altri Stan Tracey ed il gruppo di Herbie Hancock.
Ho dato una occhiata anche agli altri video e la prima impressione pervenuta del gruppo assemblato intorno a Jack Bruce è di noiosissimo deja-vù, ma ho l'impressione di essere un talebano in fatto di gusti e mi aspetto invece di leggere lunghi e calorosi peana.
Scommettiamo ?
---
PARLIAMO DI JAZZ (MA NON SOLO): I BLOG ITALIANI
http://jazzfromitaly.blogspot.it/
http://jazzdanielsblog.blogspot.com/
http://www.magazzinojazz.it/index.php?
http://mipiaceiljazz.blogspot.com/
http://freefalljazz.altervista.org/blog/
http://gerovijazz-jazzfan37.blogspot.it/
http://giuliocancelliere.wordpress.com/
http://scriveredijazz.blogspot.it/
http://saltpeanutsjazz.wordpress.com/
Questa piccola finestra sui blog italiani a tema jazzistico nasce con l'intento di accomunare, e se possibile, contribuire ad una migliore conoscenza e diffusione della nostra musica.
JAZZ E FOTOGRAFIA : HERMAN LEONARD
Una sequenza delle piů celebri fotografie di Herman accompagnate dalla voce inimitabile di Ella Fitzgerald.
ARTE E MUSICA
500 Years of Female Portraits in Western Art

Music: Bach's Sarabande from Suite for Solo Cello No. 1 in G Major, BWV 1007 performed by Yo-Yo Ma


collected some paintings by Gogh ...
Enrico Pieranunzi's melancholy music ( Canto Nascosto )
Henri Matisse paintings with Miles Davis composition "Generique"