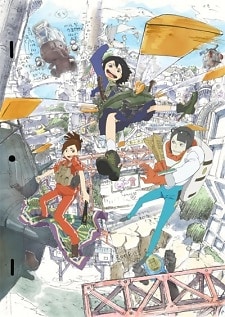 Titoli Alternativi: Eizouken ni wa Te wo Dasu na! – Hands off the Motion Pictures Club!
Studio: Science SARU
Data di Uscita: 5 Gennaio 2020
Genere: Avventura, Commedia, Scolastico, Slice of Life
Episodi:
Durata Episodi: 25 min
Censura: No
TRAMA:
Midori Asakusa alla regia, Tsubame Mizusaki alle animazioni e Sayaka Kanemori alla produzione: l'immaginazione di queste tre ragazze, che aspirano a far parte dell'industria dell'animazione, le porterà in dungeon, nel bel mezzo di campi di battaglia, sullo spazio e chissà dove ancora!
---
Eizouken ni wa Te wo Dasu na! SUB ITA
– Eizouken ni wa Te wo Dasu na! Wiki – Streaming Eizouken ni wa Te wo Dasu na! Sub Ita – Eizouken ni wa Te wo Dasu na! Download SUB ITA – Eizouken ni wa Te wo Dasu na! Episodi SUB ITA Download – Eizouken ni wa Te wo Dasu na! Streaming SUB ITA – Lista Episodi Eizouken ni wa Te wo Dasu na! Sub Ita –
Eizouken ni wa Te wo Dasu na! SUB ITA
Eizouken ni wa Te wo Dasu na! SUB ITA
ultima modifica:
2020-01-05T19:46:10+01:00
da