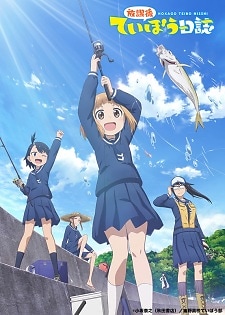 Titoli Alternativi: Houkago Teibou Nisshi, Diary of Our Days at the Breakwater, Hokago Teibo Nisshi
Studio: Doga Kobo
Data di Uscita: 7 Aprile 2020
Genere: Commedia, Scolastico, Seinen, Slice of Life
Episodi:
Durata Episodi: 24 min
Censura: No
TRAMA:
Hina Tsurugi è una studentessa del primo anno delle superiorie vive in una placida cittadina di una città costiera. La ragazza non è una tipa molto sportiva, ma le piace fare delle passeggiate sulle banchine e sui frangiflutti del porticciolo. Un giorno, durante una passeggiata, incontra Kuroiwa, una sua senpai, che la invita ad unirsi al "Teibou", il club di pesca. La vita di Hina sarà stravolta da allora in poi, le sua giornate saranno riempite dalla compagnia di eccentrici compagni di club.

---
Houkago Teibou Nisshi SUB ITA
ultima modifica:
2020-04-15T22:18:41+02:00
da