Mondo Jazz diventa il blog del portale Tracce di Jazz . Il Jazz da Armstrong a Zorn. Notizie, recensioni, personaggi, immagini, suoni e video.
BATTITI RADIOTRE: QUESTA NOTTE
25 febbraio 2015
Stanotte ascoltiamo con piacere gli ultimi lavori di produttori come Theo Parrish, Afrikan Sciences e Cummi Flu accomunati dalla passione per la musica e dalla ricerca costante di una cifra stilistica personale.
MONDO JAZZ SU FACEBOOK E SU TWITTER
I PODCAST DELLA RAI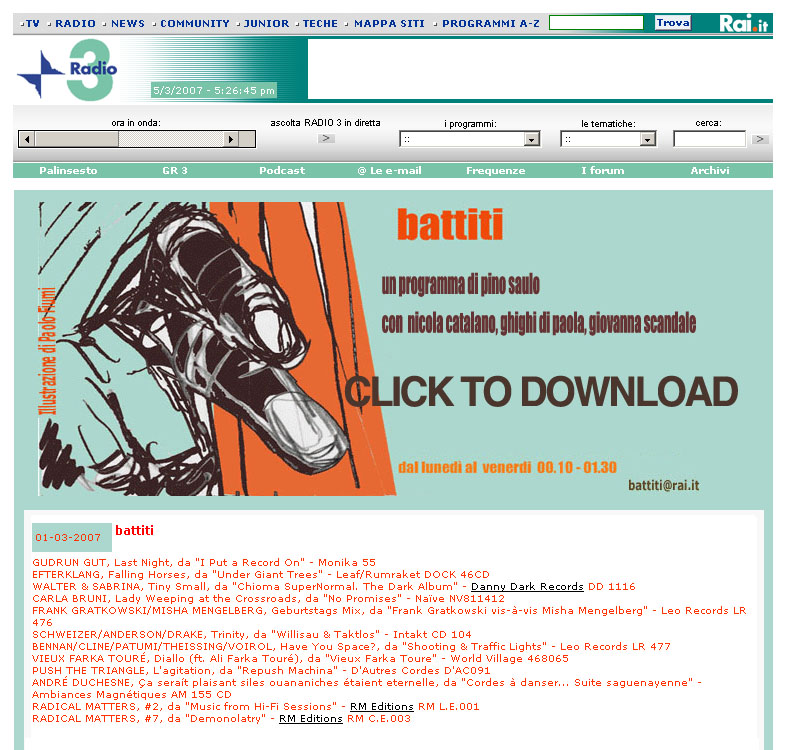 Dall'immenso archivio di Radiotre è possibile scaricare i podcast di alcune trasmissioni particolarmente interessanti per gli appassionati di musica nero-americana. On line le puntate del Dottor Djembè di David Riondino e Stefano Bollani. Da poco è possibile anche scaricare le puntate di Battiti, la trasmissione notturna dedicata al jazz , alle musiche nere e a quelle colte. Il tutto cliccando  
qui
Messaggi del 19/06/2012
Post n°2292 pubblicato il
19 Giugno 2012
da
pierrde
Dear roberto,

Tomorrow's the day: the winners of the 2012 JJA Jazz Awards will be announced at the New York City Gala at the Blue Note Jazz Club.
There are still a few gala tickets left, but they are going fast so
if you DO plan to come but haven't got your ticket, get it right now here.
Doors at the Blue Note open at 3:30 pm; if you are attending please try to arrive then so we can start the program right on time at 4pm.
And, if you aren't near NYC, don't forget about our thirteen JJA Jazz Awards satellite parties
--there may be one happening near you. (The first, last night in Ottawa, was a smash we hear.)
Thanks and best of luck to all the nominees,
Howard Mandel
JJA President
La mail l'ho appena ricevuta e ora sono nel panico: come ci arrivo al Blue Note per domani pomeriggio ?
E poi, come mi debbo vestire, casual o chic ? Ma secondo voi mi si nota di più se ci vado o se non ci vado ?
Howard, maledizione, potevi avvisarmi prima !
P.S. Ovviamente l'elenco dei candidati raggiungibile cliccando il link è autentico, cosi' come l'intera mail.
---
PARLIAMO DI JAZZ (MA NON SOLO): I BLOG ITALIANI
http://jazzfromitaly.blogspot.it/
http://jazzdanielsblog.blogspot.com/
http://www.magazzinojazz.it/index.php?
http://mipiaceiljazz.blogspot.com/
http://freefalljazz.altervista.org/blog/
http://gerovijazz-jazzfan37.blogspot.it/
http://giuliocancelliere.wordpress.com/
http://scriveredijazz.blogspot.it/
http://saltpeanutsjazz.wordpress.com/
Questa piccola finestra sui blog italiani a tema jazzistico nasce con l'intento di accomunare, e se possibile, contribuire ad una migliore conoscenza e diffusione della nostra musica.
JAZZ E FOTOGRAFIA : HERMAN LEONARD
Una sequenza delle più celebri fotografie di Herman accompagnate dalla voce inimitabile di Ella Fitzgerald.
ARTE E MUSICA
500 Years of Female Portraits in Western Art

Music: Bach's Sarabande from Suite for Solo Cello No. 1 in G Major, BWV 1007 performed by Yo-Yo Ma


collected some paintings by Gogh ...
Enrico Pieranunzi's melancholy music ( Canto Nascosto )
Henri Matisse paintings with Miles Davis composition "Generique"