Mondo Jazz diventa il blog del portale Tracce di Jazz . Il Jazz da Armstrong a Zorn. Notizie, recensioni, personaggi, immagini, suoni e video.
BATTITI RADIOTRE: QUESTA NOTTE
23 Marzo 2015
Fulmini a Kansas City!
Questa notte presentiamo il libro di Stanley Crouch – storico e critico del jazz – dedicato a Charlie Parker, insieme a Marco Bertoli, appassionato e attento cultore nonché traduttore del volume.
MONDO JAZZ SU FACEBOOK E SU TWITTER
I PODCAST DELLA RAI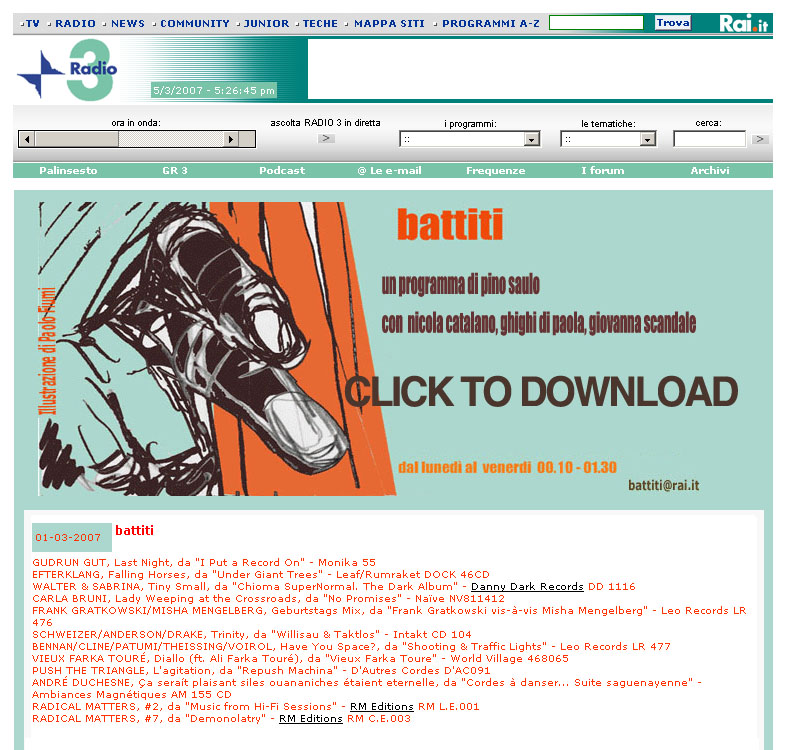 Dall'immenso archivio di Radiotre è possibile scaricare i podcast di alcune trasmissioni particolarmente interessanti per gli appassionati di musica nero-americana. On line le puntate del Dottor Djembè di David Riondino e Stefano Bollani. Da poco è possibile anche scaricare le puntate di Battiti, la trasmissione notturna dedicata al jazz , alle musiche nere e a quelle colte. Il tutto cliccando  
qui
Messaggi del 15/08/2012
Post n°2354 pubblicato il
15 Agosto 2012
da
pierrde
Si è spento sabato a Chicago dove sempre è vissuto il sassofonista Von Freeman, ottantotto anni, da uno gravemente malato.
Un ricordo sintetico ma pieno di stima e considerazione da parte di Sean Carroll:
Von was absolutely unique, as a saxophonist and as a person. As a musician he managed to intermingle an astonishing variety of styles, from classic ballads to bebob all the way to free jazz, with more than a few things you would never hear anywhere else. Some thought that his playing was an acquired taste, full of skronks and trills and lighting-fast tempo changes. But once you "got it," you could hear something in Von that you just couldn't hear anywhere else.
This isn't just formerly-local pride talking; when John Coltrane left Miles Davis's band in the 1950′s, Miles tried to get Von to replace him. But Von never left Chicago for more than a few days at a time. As a person, Von was charming, roguish, stubborn, warm, irascible, and utterly compelling. Sometimes on stage he would get in the mood for talking instead of playing, and honestly it was hard to tell which you preferred. The wisecracks, the wisdom, the Billie Holiday stories, all mixed with the smoke and the cheap beer to create an unforgettable atmosphere.
La biografia di Freeman su Wikipedia:
http://en.wikipedia.org/wiki/Von_Freeman
L'articolo di A Blog Supreme:
http://www.npr.org/blogs/ablogsupreme/2012/08/13/158729811/saxophonist-von-freeman-a-chicagoan-from-beginning-to-end#more
---
PARLIAMO DI JAZZ (MA NON SOLO): I BLOG ITALIANI
http://jazzfromitaly.blogspot.it/
http://jazzdanielsblog.blogspot.com/
http://www.magazzinojazz.it/index.php?
http://mipiaceiljazz.blogspot.com/
http://freefalljazz.altervista.org/blog/
http://gerovijazz-jazzfan37.blogspot.it/
http://giuliocancelliere.wordpress.com/
http://scriveredijazz.blogspot.it/
http://saltpeanutsjazz.wordpress.com/
Questa piccola finestra sui blog italiani a tema jazzistico nasce con l'intento di accomunare, e se possibile, contribuire ad una migliore conoscenza e diffusione della nostra musica.
JAZZ E FOTOGRAFIA : HERMAN LEONARD
Una sequenza delle più celebri fotografie di Herman accompagnate dalla voce inimitabile di Ella Fitzgerald.
ARTE E MUSICA
500 Years of Female Portraits in Western Art

Music: Bach's Sarabande from Suite for Solo Cello No. 1 in G Major, BWV 1007 performed by Yo-Yo Ma


collected some paintings by Gogh ...
Enrico Pieranunzi's melancholy music ( Canto Nascosto )
Henri Matisse paintings with Miles Davis composition "Generique"