Mondo Jazz diventa il blog del portale Tracce di Jazz . Il Jazz da Armstrong a Zorn. Notizie, recensioni, personaggi, immagini, suoni e video.
IL JAZZ SU RADIOTRE
martedì 28 aprile 2015 20.30
Locandina
IL CARTELLONE
UMBRIA JAZZ WINTER
Giovanni Guidi Rebel Band
Gianluca Petrella trombone Filippo Vignato trombone Mirco Rubegni tromba Francesco Lento tromba Rossano Emili sax baritono Daniele Tittarelli sax contralto Dan Kinzelman sax tenore, arrangiamenti, direzione Giovanni Guidi pianoforte Joe Rehmer contrabbasso Stefano Tamborrino batteria
Registrato il 28 dicembre 2014 a Orvieto, Palazzo del Popolo
BATTITI RADIOTRE: QUESTA NOTTE
Domenica 26 Aprile
Questa notte ci trasferiamo al MUSE - Museo delle Scienze di Trento dove il 10 dicembre scorso si è svolto lo spettacolo multimediale 'Not(t)e al MUSE'. In scena gli avventurosi musicisti, Paolo Fresu e Gianluca Petrella , percorrono le proprie ardite strade musicali attraverso il racconto e le suggestioni scientifiche di Eugenio Coccia, dell'Istituto Nazionale di Fisica Nucleare. Un concerto per tromba, trombone, elettronica e i misteri dell'Universo. Una breve intervista al direttore del MUSE - Michele Lanzinger – introduce questa brillante contaminazione tra saperi che si è svolta nel particolare contesto del Museo.
MONDO JAZZ SU FACEBOOK E SU TWITTER
ARCHIVIO MESSAGGI
---
Lu
Ma
Me
Gi
Ve
Sa
Do

---

1
2
3
4
5
6
7
8
9
10
11
12
13
14
15
16
17
18
19
20
21
22
23
24
25
26
27
28
29
30
31
---
I PODCAST DELLA RAI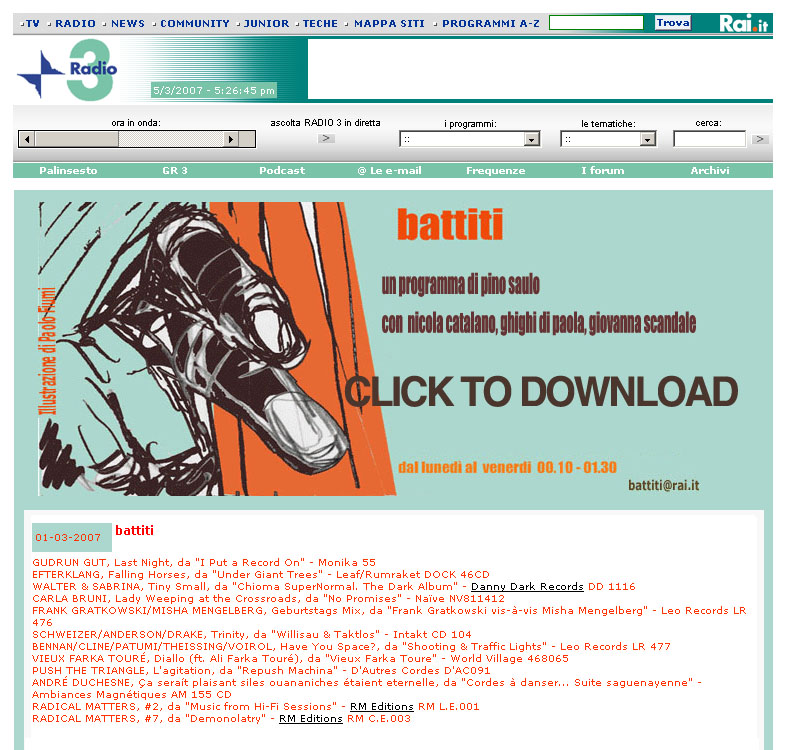 Dall'immenso archivio di Radiotre č possibile scaricare i podcast di alcune trasmissioni particolarmente interessanti per gli appassionati di musica nero-americana. On line le puntate del Dottor Djembč di David Riondino e Stefano Bollani. Da poco č possibile anche scaricare le puntate di Battiti, la trasmissione notturna dedicata al jazz , alle musiche nere e a quelle colte. Il tutto cliccando  
qui
SCOMPARE BERNARD STOLLMAN, IL FONDATORE DI ESP DISK
Post n°3971 pubblicato il
21 Aprile 2015
da
pierrde
Bernard Stollman, the founder of the ESP Disk' record label, died yesterday, April 19. According to an announcement on the label's Facebook page, Stollman had been battling colon cancer that had spread to his spine; he had also recently suffered from pneumonia and low blood oxygen. Stollman was 85. The place of death was not reported.
ESP Disk' was founded in 1964 and from the start its policy—quite rare at the time—was to give all artists complete freedom to release their music as they saw fit. ESP Disk' released copious amounts of avant-garde jazz as well as folk music, underground rock and other genres of music not considered commercial. Among the artists who recorded for ESP Disk' were the Fugs, Pearls Before Swine, the Godz and the Holy Modal Rounders. In the jazz realm, the roster included recordings by Albert Ayler, Ornette Coleman, Pharoah Sanders, Bud Powell, Sun Ra, Paul Bley, Henry Grimes, Gato Barbieri, Sonny Simmons, Steve Lacy and many more.
In 2003, pianist Ellis Marsalis released a solo album on the label. Poet Allen Ginsberg, writer William S. Burroughs, LSD promoter Timothy Leary, pre-punk rocker Jayne County and mass murderer Charles Manson also feature within the label's sizable discography, as do many artists who were, and remain, obscure.
Continua a leggere qui:
http://jazztimes.com/articles/159542-bernard-stollman-esp-disk-founder-dies-at-85
---
Vai alla Home Page del blog
PARLIAMO DI JAZZ (MA NON SOLO): I BLOG ITALIANI
http://jazzfromitaly.blogspot.it/
http://jazzdanielsblog.blogspot.com/
http://www.magazzinojazz.it/index.php?
http://mipiaceiljazz.blogspot.com/
http://freefalljazz.altervista.org/blog/
http://gerovijazz-jazzfan37.blogspot.it/
http://giuliocancelliere.wordpress.com/
http://scriveredijazz.blogspot.it/
http://saltpeanutsjazz.wordpress.com/
Questa piccola finestra sui blog italiani a tema jazzistico nasce con l'intento di accomunare, e se possibile, contribuire ad una migliore conoscenza e diffusione della nostra musica.
JAZZ E FOTOGRAFIA : HERMAN LEONARD
Una sequenza delle piů celebri fotografie di Herman accompagnate dalla voce inimitabile di Ella Fitzgerald.
ARTE E MUSICA
500 Years of Female Portraits in Western Art

Music: Bach's Sarabande from Suite for Solo Cello No. 1 in G Major, BWV 1007 performed by Yo-Yo Ma


collected some paintings by Gogh ...
Enrico Pieranunzi's melancholy music ( Canto Nascosto )
Henri Matisse paintings with Miles Davis composition "Generique"